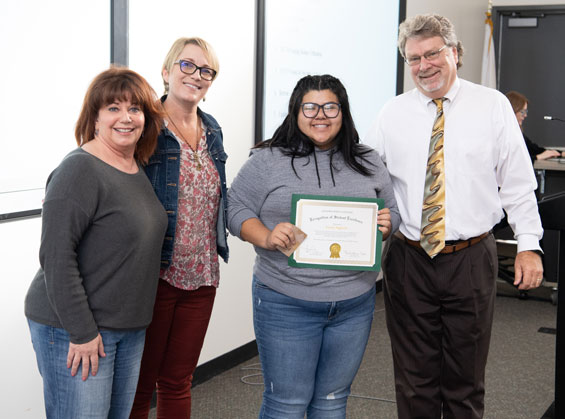 The President's Office and Academic Senate have partnered together to honor outstanding students for excellence in the classroom, campus community, or in their personal lives. Leyna was nominated by English instructor, Keisha Cosand and honored at the Planning and Budget meeting on November 28th by Academic Senate President, Martie Ramm Engle and GWC President, Tim McGrath.   Professor Cosand wrote:
"Leyna started in my lowest level English course, English 090, three semesters ago. Even though she struggled, she worked incredibly hard to pass. The following semester, Leyna enrolled in my English 100 course. Her writing had improved, but it is a difficult class; she was determined to do well. She took advantage of the extra tutoring offered by the SIA, asked me for help when she needed it, and worked incredibly hard to pass English 100 with an "A," which she did. Now, Leyna is thriving in my English 110 course! Her writing ability and critical thinking skills have drastically improved, and she is on her way to a well-deserved "A" in this course. She participates in challenging literature discussions in class and is blowing me away with her comprehension, insights, and analysis. I'm incredibly proud of her! In addition, she has a contagiously positive attitude, makes efforts to create good feelings among classmates, has the wit of a comedian, and she genuinely cares for others. On holidays, like Valentine's Day and Halloween, she brings goodie bags of candy for everyone in class, and this Veteran's Day my students honored a classmate, who is a veteran, by writing notes of appreciation. Leyna not only brought him a card but she brought him balloons and a cake. This young woman is truly remarkable, and I know she has a bright future ahead of her. She came to my class feeling like she was not college material. Not only is she college material, she is university material, and I can't wait to go to her graduation from whatever university she takes by storm!"
---
We appreciate the support of our faculty members who have submitted such wonderful nominations on behalf of their students.  The nomination period is ongoing so faculty should submit a nomination whenever you find that special student who is deserving of recognition!  Nomination Form [click here].