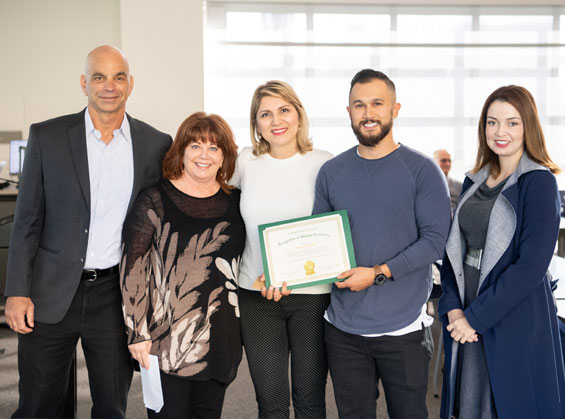 The President's Office and Academic Senate have partnered together to honor outstanding students for excellence in the classroom, campus community, or in their personal lives. Kevin was nominated by Mathematics instructor, Maryam Khakbazan and English instructor, Cristina Acevedo and was honored at the Planning and Budget meeting on December 12, 2018 by Academic Senate President, Martie Ramm Engle, and GWC Vice President of Instruction, Albert Gasparian.
Professor Khakbazan wrote:
"Kevin is a hard-working and disciplined student who has an A in my class all A's and B's in his other classes. Kevin has shared the following information about himself with me.
Kevin has vastly expanded his comprehension of algebra and has surpassed his own expectations. He only expects to be further groomed mathematically as the semester comes to a close soon and intends on utilizing all the tools learned throughout the course. He is also taking English 100, Psychology 100 and Philosophy 100, and he is doing well in all of his classes. These courses serve the foundational step in his education plan to optimistically transfer to National University to attain a bachelors in Radiation Therapy. Prior to starting his journey at GWC, Kevin had been serving in the United States Air Force for 4 years. He was assigned to a Combat Control T.S., which were highly deployable special operational units that surveyed air fields and controlled air traffic while attached to ODA teams (Operational Detachment Alphas). While in course, he became Air Traffic Control certified, along with completing Airborne and the Survival Specialist course and achieved marksmen for all his assigned gear: M9 and the M4. His daughter, Elliana, was born shortly before he retired from the military and she has not only been a blessing but has served as a beacon of positive self-awareness for Kevin in a way that has helped him mentally and emotionally. Since becoming a veteran and a father, Kevin has also attempted to broaden his knowledgeable skill set by aptly attending certified courses that the VA offers. Kevin is also currently OSHA 30 certified, along with a certificate in Logistics and Supply Chain, NRF (National Retail Federation) and a certificate of completion in Project Management. Despite having a plethora of occupied time with school and parental duties, Kevin also works part-time as for Bay-L.A Express moving company based in San Francisco. Due to his attained skills he spear heads the clientele traffic that manifests from Southern California and tries to coordinate contracts with truck leasing companies and storage units alike. He hopes he can shine a proud and motivating light upon his daughter's perception of her father."
Professor Acevedo wrote:
"Student is a single father. He is a full-time student. He makes it in effort to rise above in the classroom. He somehow finds the time to assist others in the class to equally do well. This remarkable young man served 4 years in the air force and worked a year after his services before deciding to return back to school. His motivation is to be the best father he can and to provide as best as he can to his daughter. Kevin is an astonishing student and young man."