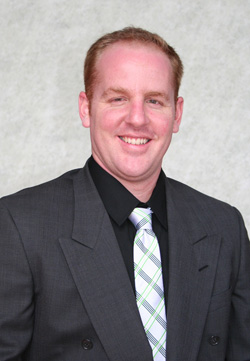 The GWC Student Council established the R. Dudley Boyce Outstanding Student Award, in memory of Golden West's first college president, to recognize a student who most exemplifies the quality of leadership. This year, it was awarded to Michael Battistone.
Since arriving at Golden West College, Michael has become dedicated to the life of the mind. Naturally more comfortable in unstructured settings, after much dedication, he has grown to embrace the academic environment, and is now graduating with honors. He is looking forward to transferring to a four-year university and applying the lessons learned at GWC in a new locale.
Not one to sacrifice action for thought, Michael's pursuit of academic excellence is a result of his involvement in extracurricular activities on campus. He has served in varying positions at GWC, including Student Senator, Model United Nations Club President, and Student Trustee for the Coast Community College District. He has represented students on lobbying trips to Sacramento and Washington D.C. and as an award winning delegate at academic conferences. Realizing that a student's learning potential is only achieved by combining out-of-class application with in-class theory, he has worked hard to increase student participation at GWC.
Believing that man begins cutting his wisdom teeth only when he bites off more than he can chew, Michael is always eager for the next challenge. He is honored and humbled by being selected as the Outstanding Student of the Year and is thankful for the instructors, staff, and fellow students that made his growth and success possible. Lastly, he hopes that his time and efforts at Golden West have benefited the college as much as it has benefited him.
The recipient of this award traditionally gives the student address at the graduation ceremony and Michael is preparing for his speech on May 24th.