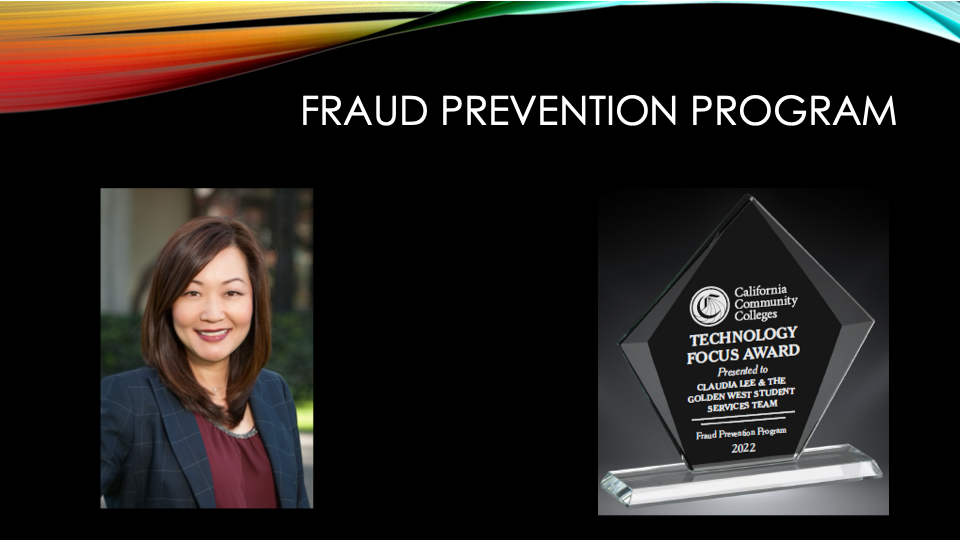 Congratulations to Dr. Claudia Lee and GWC Student Services Team on receiving the California Community College Chancellor's Office (CCCCO) Technology Focus Award. The award was presented at the Chief Information Systems Officers Association (CISOA) Tech Summit earlier this week. The Chancellor's Office Technology Focus Award program recognizes colleges that have identified and solved significant problems to the benefit of students, staff and/or faculty.
Dr. Lee and her team quickly pivoted and addressed large numbers of fraudulent student applications and financial aid requests during the pandemic. They quickly combined technology and investigative work to neutralize the threat to student enrollments and student assistance services, while ensuring that deserving students received the services they needed during one of the more difficult times in recent memory.
Below: Golden West College's Director of Financial Aid Adrienne Burton and Director of Enrollment Services Jennifer Ortberg are joined by Valerie Lundy-Wagner, Vice Chancellor for Digital Innovation and Infrastructure for the State Chancellor Office at the CISOA Tech Summit on Monday.