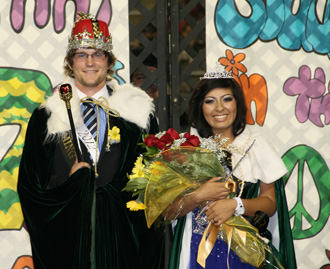 On Saturday, October 6, Kelly Gadea and Jacob Ziemer were named Homecoming Queen and King during the football game's half-time ceremony.
Kelly Gadea is a freshman majoring in Biology. She plans to earn her AA degree and transfer to Cal State Long Beach. She is currently a member of the GWC Puente Club and has been involved in M.E.C.H.A., Ambassadors Club, and Class of 2012 Club. In her spare time she enjoys playing sports, spending time with her friends and family, and eating food.
Jacob Ziemer is a continuing student majoring in Civil Engineering. He plans to transfer to UC Berkeley. He is a member of Alpha Gamma Sigma, Mi Casa Club, Christian Club, G.L.A.S.A., Geneology Club, and the Environmental Sustainability Association. When he is not studying or involved in his various activities, he enjoys skiing, fishing, coin collecting, volunteering, and playing baseball, basketball or disc golf.
This year,  the Homecoming theme was "That 70s at GWC" Throughout the week the Associated students sponsored a variety of activities to carry on the theme. Some of the activities included spirit games, music, a photo booth, and prizes.
The Homecoming Court process started with elections held on campus. The top five candidates in each category were named the Homecoming Court. On October 2, the court presented themselves before a panel of judges who rated them in several categories and the queen and king were determined by the highest overall scores by the judges.

The finalists, who will now serve as princes and princesses, are (l-r) Katie Fredrickson, Emilio Torres, Patricia Manzanares, Dale Lendrum, Sasha Achrem, Jeremy Flores, Lizbett Rodriguez, and Brandon Ngo.