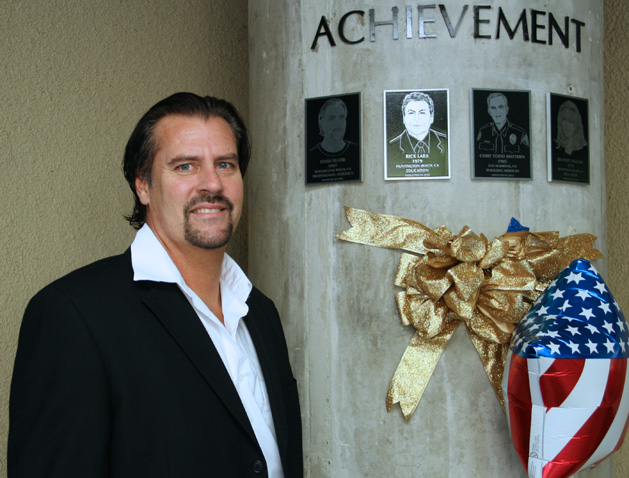 Kevin Elster was honored as an Alumni Pillar of Achievement at the 2012 Courtyard of Honor Ceremony for his successful career as a Major League Baseball Player.
Kevin Elster, a resident of Huntington Beach, is a retired Major League Baseball shortstop. He's been named one the of "Top 50 Mets Players," playing for six different ball clubs during his career: the New York Mets (1986-1992), New York Yankees (1994-1995), Philadelphia Phillies (1995), Texas Rangers (1996 and 1998), Pittsburgh Pirates (1997), and Los Angeles Dodgers (2000). He made his Major League Baseball debut on September 2, 1986, and played his final game on October 1, 2000. Elster was selected by the Mets in the second round of the 1984 January amateur draft out of Golden West College in Huntington Beach, California. He was the 28th player chosen overall and signed a minor league contract with the Mets on May 21st of that year.
An article in the Los Angeles Times, dated February 26, 1987, titled, "Elster Signs With Mets," states, "Kevin Elster, a former Marina High School and Golden West College infielder, signed a one-year contract with the New York Mets Wednesday. Elster, 23, a shortstop, batted .269 in 127 games for Class AA Jackson of the Texas League last season before the Mets purchased his contract Aug. 30."
In the 1988-89 seasons, Elster set the major league record for consecutive games without an error for a shortshop at 88 games.  On April 11, 2000, Elster hit three home runs in the first game played at Pacific Bell Park in San Francisco.
Kevin appeared in the 1994 movie, Little Big League, playing the part of character Pat Corning.  Golden West College is proud to have Kevin in their league of alumni!