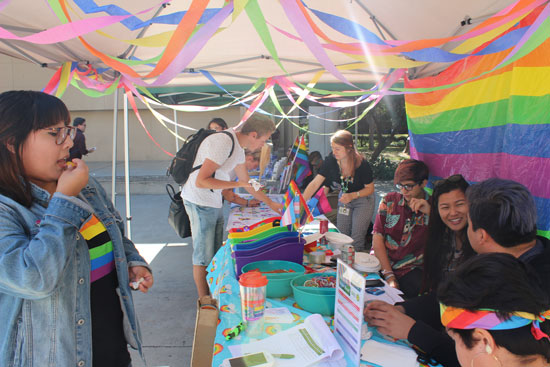 This week, GWC recognizes and honors our diverse LGBTQ+ students and community with the return of Pride Week. The Center for Global & Cultural Programs partnered with GWC's GLASA (Gay Lesbian Alternative Straight Alliance), Puente Club, faculty and students to bring five days of events and activities to campus.
GWC's Pride Week aims to celebrate LGBTQ+ identities on and off campus, to raise awareness about issues unique to the community, and to highlight opportunities for allyship.  The week is anchored by National Coming Out Day (October 11) which is celebrating its 30th anniversary this year.
"We hope students take away a sense of pride and a feeling of belonging at GWC, that this is a place they can be their full selves," said Alison Carlock, from GWC's Center for Global & Cultural Programs. "We also want to increase awareness of LGBTQ issues, and provide information and tools on how students can engage and be supportive."
GWC Pride Week events include:
Mon 10/8: Personal Stories from the LGBTQ Community – Learn from representatives from the PFLAG Speakers Bureau as they talk about their own experiences and provide space for questions and open dialogue.
Tue 10/9: "Love, Simon" screening – Join us for a romantic comedy-drama film that tells a heartfelt coming-of-age story about the adventures of finding yourself and falling in love. Dinner will be served.
Wed 10/10: Coffee time with GLASA – Join us for an hour of coffee, treats, and an open discussion on LGBTQ+ topics in a safe environment.
Thu 10/11: National Coming Out Day – Show your support! Sign the pledge banner, wear a rainbow ribbon, enjoy a rainbow snack, and learn more about campus and community resources.
Fri 10/12: Safe Zone Training – Learn about taking positive action on campus to support the LGBTQ community.
For more information on National Coming Out Day, please visit https://www.hrc.org/resources/national-coming-out-day. GWC's GLASA can be found on Facebook at http://bit.ly/GWCglasa.